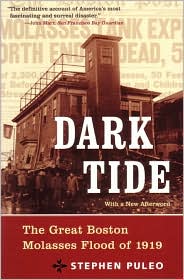 In the spring of 2011, the One Book One Community selection was
Dark Tide: The Great Boston Molasses Flood of 1919.
A highlight of the semester was the campus visit by Stephen Puleo, a public intellectual who brings together diligent research and perceptive analysis with a gift for story-telling.
As I have done most spring semesters since the One Book partnership began, I used
Dark Tide
as a text for an upper-level course I teach for future geography teachers. Because they will need to adapt all kinds of things for use in their classrooms, I have them apply the
geography curricular frameworks
to whichever text we are reading.
In the case of
Dark Tide
, the author really did half the work for us. Puleo tells the true story of this disaster and its aftermath in the context of its times, tying it to global geopolitics and the geography of local immigrant communities. Working in teams, students created lesson plans for several different chapters, and I posted them on the
class web page
for other educators to use or modify.